Manacá is an investment advisory company that represent, through its partners, the bank BTG Pactual.
Our role is to understand and clarify our clients' investment goals, then plan and agree on return expectations, select products that suit the client risk profile and deliver performance according to his or her risk parameters.
Manaca's partners have relevant experience in the financial market. Its mission is to cater wealth clients with high standards of quality and transparency to fulfill a dream of growing a sustainable business based on strong ethics.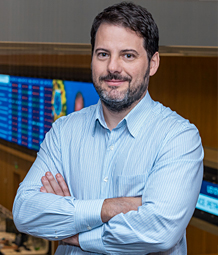 Rodolfo has 22 years of working experience in financial markets and in the oil & gas industry. He started his career in investment bank and in asset management. After 5 years, he changed from financial markets to the oil & gas industry in which he got roles in areas such as production, sales and project structuring for 20 years, most of them dealing with foreign companies. In more recent years, he has focused his career in promoting financial products such as investments, foreign exchange, corporate credit and insurance from high profile financial institutions in Brazil.
He graduated in Business Administration from Universidade Candido Mendes (RJ) and pursued executive education in Finance from IBMEC, Oil Engineering from Coppe UFRJ, Accounting and Financial Analysis from FGV RJ and Oil Drilling from the Aberdeen Drilling Consultants.
Executive with 20 years of working experience in top tier banks and insurance companies both local (Unibanco, Itaú) and foreign (AIG, MUFG) in Brazil and in the US. His roles included sales, finance and planning in core areas such as Wealth Management, Asset Management, Corporate Banking and Insurance. Additionally, he has worked for 5 years in operations, finance and sales for a major cell phone carrier in Rio de Janeiro.
Eduardo has earned a BS in Engineering from PUC-RJ (1994), he concluded an MBA in Finance from University of North Carolina – Chapel Hill (2000) and enrolled in an executive course about Private Equity and Venture Capital from New York University (2019).